I usually find myself in a celebratory mood about this time of week. I'm usually ready to take a wistful look backwards at the year in cinema.
No, not The Oscars. I'm talking about The Brians, the awards I have handed out for the best movies I have seen in the theatre each year since 2003. You know, the important awards.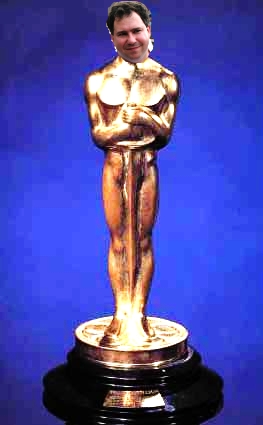 Sadly, we won't be celebrating any winners this year. I have to admit that 2013 was a movie-going bust in our house.
I quickly looked into the mug where I keep movie ticket stubs and only found two movies from last year – "Oz: The Great and Powerful" and "Now You See Me." I can't justify simply picking between two films.
I definitely wanted to see other movies, but never got a chance. Either we had too much going on or just didn't feel like schlepping out to the theatre. Eventually, I'll catch films like "42," "The Great Gatsby," "The Way Way Back," "The To Do List," "Gravity," "Captain Phillips" and "Saving Mr. Banks." I can't promise anything on "Smurfs 2," however.
So The Brians are off. But there is good news.
First of all, we have already seen three movies this year – "Anchorman 2," "Monuments Men" and "The Lego Movie," so this will only be a one-year hiatus. Secondly, the real reason for the dearth of candidates is pretty important.
We have instituted a new tradition at our house, one that started before 2013, but definitely kept us much too involved to worry about what the movie studios wanted to ram down our throats. On pretty much every Friday, we watch a movie together.
But this is much more than just popping in something which we missed on the big screen. This is an education for our daughter and time machine for my wife and I. Our movie nights typically showcase a classic from the 1980s.
I bet those movies in the list of things we missed could end up delighting and entertaining me, but they would pale in comparison to introducing "Bill and Ted's Excellent Adventure" or "Real Genius" to a new generation.
We don't solely focus on the movies that got Maria and I through high school and college, but that is our main focus. The primary goal is to showcase the kind of comedy which helped lay the building blocks for today's filmmakers.
That goal came into clearer focus with the death of writer/director/actor Harold Ramis last week. We've already shared "Meatballs," "Ghostbusters," and "Groundhog Day" and hope the lessons from those films got across.
Of course, we will probably have to hold off on "Stripes," "Caddyshack" and "Animal House" for a few years, but I like knowing that we have more to look forward to in this project.
We have so many entertainment choices – current and classic – it's OK once in a while to look back and remember what got us here. The Brians will return. They just needed some time to remember why movies mean so much in the first place.