I never thought shaving cream could change my life, but that's the situation I find myself in these days.
A little while back, I wrote about my quest to dress a little better. I had considered trying one of those services which sends you clothes each month based on your style.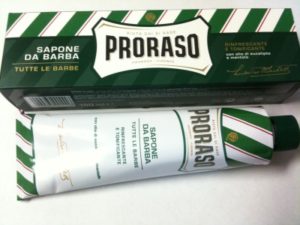 I ultimately passed on that idea, but did enroll in a plan which sends me grooming items along with some personal products once a month. I need all the help I can get.
My first box came last month. Along with some fun socks that make my daughter cringe, I received a small tube of shaving cream. I figured I would give it a shot.
I don't want to exaggerate, but that first shave made me feel like world hunger had ended, people of all religious and political persuasions had joined in a group hug, and I would find a never-ending pan of pizza in my kitchen every day.
Fun socks and awesome shaving cream? They had a fan for life.
The box had a few other items, but none made an impression on me like the shaving cream did. I even went online and bought two tubes of it so I could have it forever. That's the whole point of this service – send you sample sizes so you get sucked in and buy the real thing.
My second box came a week or so ago, but didn't have the same impact. I did get some pretty neat sunglasses that fold up (but also make me look like those really big ones that people with eye problems have to wear.
There was also some shampoo and hair product which I will probably only use as a gag. But for the second straight month, the box included a cologne sample.
I really don't have anything against people who wear cologne. That's just not my style. My wife doesn't particularly like strong scents as well so the thought of trying out a new cologne just doesn't enter my mind. I have ended up tossing both samples.
Because I don't want to waste product like that, I e-mailed the company and asked if there was a way they could put me on some "no-cologne list" for future shipments. I never intended to buy the full size product, I explained to them.
They sent me a really nice e-mail explaining that the whole point of the service is the discovery of new products. They said that I could fine tune my personal profile to make sure I received things more in line with my tastes. They told me that they couldn't possibly have each person pick exactly what they did and didn't want without running the risk of screwing things up.
Then they said the weirdest thing – they told me I could share items I didn't like with friends of mine.
If guys could easily walk up to each other and say, "Hey, Hank, I think this cologne will smell great on you," don't you think we wouldn't need to send away for a box if items once a month with items that might improve our grooming?
I appreciate that they think that might happen, but they might as well put something in next month's box to treat a black eye if they expect me to go around telling guys what scent I thing would work for them.
But at least I'll have a close shave when my friend decks me.