Now that we have that silliness known as The Oscars out of the way, it's time to focus on the real awards – The Brians.
In case you don't know, these are the awards recognizing the best in film for movies which I saw in the theater the previous year.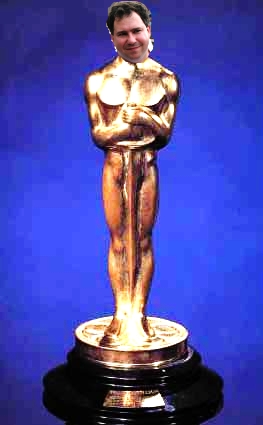 This is a big year for The Brians for a couple of reasons. First of all, I saw at least one movie which actually had Oscar hopes. Secondly, we are back after a hiatus in 2014 since I only saw two movies in the theater in 2013.
Seven movies have a chance to win these prestigious awards: The Lego Movie, Monuments Men, Anchorman 2, 22 Jump Street, This is Where I Leave You, Gone Girl, and The Theory of Everything.
The big five categories are awarded here. Check back here Wednesday, Feb. 25 to see the lesser (and more fun) categories and some behind-the-scenes information.
Best Supporting Actress: Jillian Bell (22 Jump Street). I didn't know her from her "Workaholics" role, but she blew me away as Mercedes, the judgy girl who ended up running a campus-wide drug ring. Her deadpan snark was one of the keys to making this sequel work.
Best Supporting Actor: Ice Cube (22 Jump Street). Love the Cube. You need great supporting actors to make a sequel work, and his anger at finding his daughter dating Jonah Hill's character was absolutely perfect. Will Ferrell almost got this for his work in "The Lego Movie," but he fell just short.
Best Actress: Tina Fey (This Is Where I Leave You). I love almost everything about Jonathan Tropper's books so the movie adaptation of one of his best works was bound to win something. I liked the film a lot more than most people, mainly because of Fey. She still lives in my heart as Liz Lemon, but her nuanced take of Wendy Altman in this goofy, inappropriate, funny movie made me smile. She even overcame the awkward way they handled the character's difficulty dealing with her ex-boyfriend.
Best Actor: Eddie Redmayne (The Theory of Everything). Part of me feels like I have to give something to the one movie I saw in 2014 which had a chance to win over the weekend. Thankfully, Eddie Redmayne put on a spectacular performance. He is lucky, however, that I didn't see Foxcatcher and The Imitation Game until this year. That said, he brought great depth to Stephen Hawking, especially in the early parts of the movie. You could see the tics and problems coming, but they never veered into slapstick for me.
Best Movie: The Lego Movie. Since the academy won't recognize the greatness of this film, I feel compelled to scream from the mountaintops. Who doesn't smile when they hear the theme song? Who doesn't identify with Emmett? Who hasn't named a work nemesis Lord Business? The bottom line is that entertainment should be fun, and I had the most fun last year during the two hours I watched this film. In the year of Chris Pratt, it would seem wrong to not recognize something he did, and we didn't get to Guardians of the Galaxy in the theater. Everyone should watch this movie as much as they can, especially when they are feeling down.
Because everything really is awesome.