I will lose a friend tonight. Actually a bunch of friends as Cougar Town broadcasts its last episode.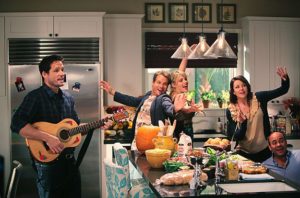 Go ahead and make fun. I have heard all the jokes. The ones about the bad name. The ones about the quality of the show. The ones about pretty much anything that ignores the fact that the show lasted six seasons, an eternity in today's television landscape.
I fell in love with the show manly because of my man crush on co-creator Bill Lawrence. He hooked me with Scrubs, so I was an easy mark when Cougar Town came along. I love the way they turned away from the original premise of an older woman dating younger guys to a show about friends who have a special bond.
I'm the kind of fan who makes sure to read the joke about the name of the show on the title card each week. I look at the episode title to see if it references a Tom Petty song I know. I was among the fools who called 1-800-PENNYCAN to talk to cast members (I chatted with Ian Gomez and Brian Van Holt).
Sure, it moved to TBS a few years ago when ABC cut bait, but that paved the way in a sense for other shows to debut on cable stations. The show has maintained a high profile on the cable network even if the total number of viewers pales in comparison to the numbers on ABC. Like it or not, they made more than 50 hours of the show. That's pretty awesome for a show which caught so much flak for little more than its title.
At a certain point, Cougar Town ceased trying to meet the needs of a mass audience and turned into a way for the writers and actors to entertain themselves and the hardcore fans. Counting myself in that second group, I'm OK with that decision. Comedy is supposed to focus on fun. Lawrence, co-creator Kevin Biegel and the folks that followed them never lost sight of that.
That's why the end makes me a little sad, in a different way than the end of Parks & Rec did. I can make Parks & Rec jokes, and all kinds of people will get them. March 31 jokes land. Treat Yo Self jokes kill. Apps and zerts never get old. But when I yell "Change approved," fewer people get why that is funny. P&R meant more, but I can also share it with more people. This is kind of the end of the road for Cougar Town jokes.
I'm glad I went for the ride.