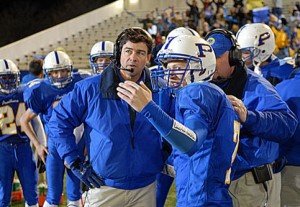 I don't know why I did it. Several years ago, I started to watch Friday Night Lights on Netflix. I wanted to understand the inside jokes I heard from family and pop culture. I wanted to feel the power of Coach Taylor. I wanted to see every football game come down to the final play.
So I watched episode after episode, usually during my lunch break at work. I needed a while, but I finally got through all five seasons.
Almost.
For some reason, I stopped right before the final episode. The decision made sense in my mind at the time. I wanted to truly savor my final days in Dillon, Texas. That meant watching the episode at home instead of at work.
The problem is, I never made time to watch the episode at home. At some point, I started to rationalize that if I never watched the episode, the show had never ended. Then I got lazy and just didn't feel like going back and watching it.
I finally bit the bullet last week. I really hate myself for taking so long. The silly nature of the final game's ending was as cheesy as I had hoped. The drama around the proposal cracked me up. The philosophy of Tim Riggins could have come in handy a long time ago. I loved every second of it.
Now that I have finally gotten around to finishing a show which went off the air in 2011, maybe I can start planning a schedule to finish Mad Men. I think I only have three seasons left.