Growing up a sports-obsessed teen in the early 1980s, I have distinct memories of the Dunbar basketball team. I never saw them play in person, but I read dozens of stories about them (Baltimore had three daily papers back then, and I read each sports section cover to cover) and watched them on the news.
I knew about how the Poets could get the city's best players to transfer in because of the schools dental studies program. I knew how Reggie Lewis had to swallow pride and be the sixth man. I knew how people had to see Muggsy Bogues in action to believe him.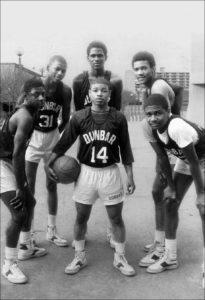 That's why I snapped up The Boys of Dunbar: A Story of Love, Hope, and Basketball by Alejandro Danois recently. The book takes readers through Dunbar's 1981-82 season, the one that introduced them to basketball fans across the country. They had already cemented their iconic status in Baltimore with their battles with Calvert Hall (my high school's rival, so I always took Dunbar's side) before this season, but Bob Wade's team hit the road to make even more people realize how good East Baltimore could play.
I sailed through the book. They have really engaging anecdotes from the key figures on the team, spelling out the challenges the players faced both off the court and as part of a super team coached by a disciplinarian like Wade. While the story is essentially an uplifting one, punches are not pulled as the players – now all successful adults – cop to the teenage hijinks that took place during the season.
I really enjoyed reading some of the inside baseball that I did not know. For instance, I had no idea that Lewis – who died in 1993 from a congenital heart problem that he likely knew about, but hid from people – transferred to Dunbar for the '81-82 season after he was cut as a sophomore from the team at Patterson High School. Imagine a player confident enough to say, "I didn't make that team so I am going to the best team in the city to show them!"
Bogues also dealt with issues from his previous school. An administrative error kept him from enrolling at Dunbar in 1980, leaving him at Southern High School with a lot of anger. His arrival at Dunbar the next year filled the gap Wade thinks kept the team from upsetting Calvert Hall the previous year. The book does a great job showing the family issues Bogues had to deal with and how the used the way people reacted to his 5-foot-3 frame as fuel to become a game changer.
We also learn about personal issues David Wingate carried on his shoulders during the season and how players from competing recreation centers around the city came together to prove that Dunbar could rise to the top.
If I have any quibble, it comes with the parts where Danois writes about the Dunbar-Calvert Hall rivalry. First off, he refers to them as Calvert on more than one occasion. That never happens. They are Calvert Hall. Calvert is a high school in southern Maryland. Secondly, while he gets the part about Calvert Hall ducking Dunbar correct, he doesn't delve into the back story as to why that mattered in Baltimore.
Public school sports are run in Maryland are run by a state-affiliated agency – the Maryland Public Secondary Schools Athletic Association (MPSSAA). This is the group that runs state championship events.
However, up until 1994, Baltimore City schools did not belong to the MPSSAA. They were part of the Maryland Scholastic Association, a sports organization comprised of city schools and area Catholic and private schools. I grew up watching (and later competing in) MSA sports where kids from the city brushed shoulders with kids living in mansions. It was a pretty unique arrangement that provided an awesome experience.
The only exception was basketball. Back in the 1970s, the Catholic schools pulled out of the MSA basketball competition because of some controversial games, including one involving Dunbar and Mt. St. Joe (where all my brothers attended school). The Catholic League formed in 1972, taking away regular-season basketball matchups between schools like Dunbar and Calvert Hall.
So the way Calvert Hall coach Mark Amatucci ducked Dunbar had even more meaning when the people in Baltimore knew that those two schools had the chance to compete alongside each other in many other sports. This wasn't just about a good Catholic school ducking a good public school. This was about the Catholic schools not wanting to play the city schools in basketball at all.
I think adding in that flavor and maybe exposing the rift between the (mostly black) city schools and (mostly white, except for some athletes) Catholic schools would have helped explain why not getting a chance to play Calvert Hall rankled the Dunbar folks so much. Otherwise, this is a great look at a pretty special time in Baltimore sports history.