I am really glad I did not troll the Intertubes for reviews of Chuck Culpepper's book Bloody Confused!: A Clueless American Sportswriter Seeks Solace in English Soccer before I recently read it. I should have known that anything relating to an American and soccer would engender all kinds of angst and confusion.
As it was, I thoroughly enjoyed taking a ride with the award-winning sportswriter as he went from confused neophyte to dedicated supporter of Portsmouth after moving to England a few years ago. I think he belabored a few points too much, but his skill as a writer made everything worthwhile for me.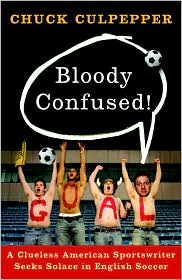 One of the points he just couldn't give up was his dissatisfaction with sports in America. It could get a little tiresome, but being a former sports writer, albeit on a much smaller scale, I know exactly what he is talking about. I understand why he sought refuge in something so different, yet so familiar.
I, too, have rediscovered what it's like to be a fan through soccer. I had the double whammy of also coaching high school sports while I was a sports writer so I either had to have no interest in the outcome or had to live and die with every single result. When I stepped away from journalism and stopped coaching within a few months of each other, I really could care less about sports. My new career and baby daughter took up all that time and energy.
But like the guy I am, I drifted back. First, I started actually attending D.C. United matches since I didn't have to work nights and weekends any more. Then, the U.S. made its run in the 2002 World Cup. Combine those two things with a burgeoning online soccer community, and I was hooked. I have slowly come back to other sports, but it was the purity of soccer that put me on that path.
The fact that Culpepper took a European route and didn't pay homage to MLS has rankled a few of the reviewers I have seen out there. To them, I have the same message that many American soccer fans need to hear – get over yourself.
I am a huge MLS fan and will trumpet its strengths any day of the week, but kissing the butt of a growing league and its true fans is not what the book is about. The book is about self-discovery. The book is about a different kind of excess, a personal excess instead of organizational excess. Chuck Culpepper couldn't take this journey with any connection to MLS because the things that made him hate sports are the things that keep MLS in the corner in America.
Just because an American wrote a book about soccer does not mean he has to take up the charge of soccer fans who feel slighted because they have an unhealthy need for acceptance. I'm glad I read the book for what it was – a lighthearted look at rediscovering the juvenile in all of us – instead of bemoaning it for not making me feel better about being an American soccer fan.